April 28, 2022 14:00:00 - 15:00:00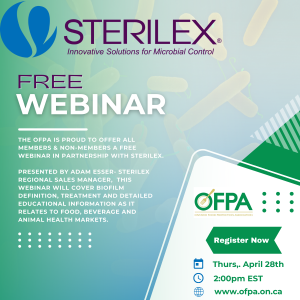 Mark Your Calendar to Attend our April "FREE" Webinar!
The OFPA is pleased to offer our members and non-members the opportunity to join our monthly webinars. Our April webinar presented by Sterilex is free of charge for our members and non-members.


When: Thursday, April 28th, 2022

Time: 2:00PM EST
Title: Biofilm, The BasicsWebinar Description:  Sterilex is an industry thought leader and chemical technology company. This webinar will cover biofilm definition, treatment, and detailed educational information as it relates to Food, Beverage & Animal Health market segments. 

Presenter Information: Adam W. Esser- Sterilex Regional Manager, Applications Specialist. 

Please stay tuned for the complete 2022 schedule of webinar offerings. More information will be coming your way soon!